14 Jul 2022
The Best Breckenridge Restaurants To Take Your Family For Breakfast, Lunch and Dinner
When it comes to family vacations, often the hardest parts of the trips are finding places to eat that everyone can enjoy. Dietary restrictions, contrasting food preferences and the age-old obstacle of kid picky eaters are all significant factors to consider when choosing a place to eat on a family trip.
Not to worry though! Here in Breckenridge, there's an outstanding selection of family-friendly dining options for each meal of the day. Read on to discover our top Breck breakfast, lunch and dinner restaurants that the whole family will love!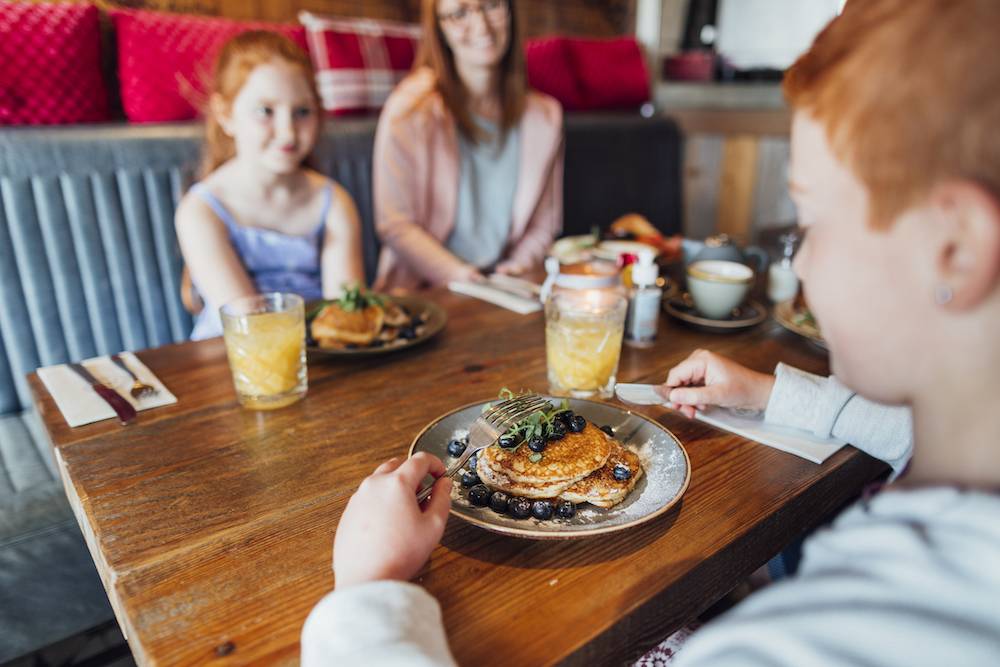 Breakfast In Breckenridge
For families visiting Breckenridge, breakfast is certainly the most important meal of the day. No matter which season you're traveling in, you'll want to make sure you start the day off strong with a hearty Colorado breakfast!
If we could only recommend one restaurant in Breckenridge, it'd have to be Columbine Cafe. Open every day of the year apart from Thanksgiving and Christmas, this local favorite features a large menu of American breakfast and lunch staple dishes. Since Columbine Cafe is one of the more popular eateries, try to get there early with your family to quickly snag a table.
Another bustling local favorite breakfast and brunch spot in Breckenridge is the Blue Moose. Parents and kids alike will rejoice at Blue Moose's extensive menu of delicious breakfast dishes. From excellent benedicts made with farm-fresh eggs to massive towers of fluffy pancakes, the whole family will love this breakfast haven. Like Columbine Cafe, the Blue Moose can get busy quick, so be prepared to get there early or wait a little while for a table.
Families looking for a more in-and-out approach to breakfast need to hit up BreckFast. Like the name suggests, this breakfast and lunch stop delivers fast meals at an amazing quality. BreckFast serves up crowd-pleasing breakfast sandwiches, burritos and classic plates. If you miss them for your family's morning meal, be sure to stop by for lunch to try out their sandwiches, burgers and bowls.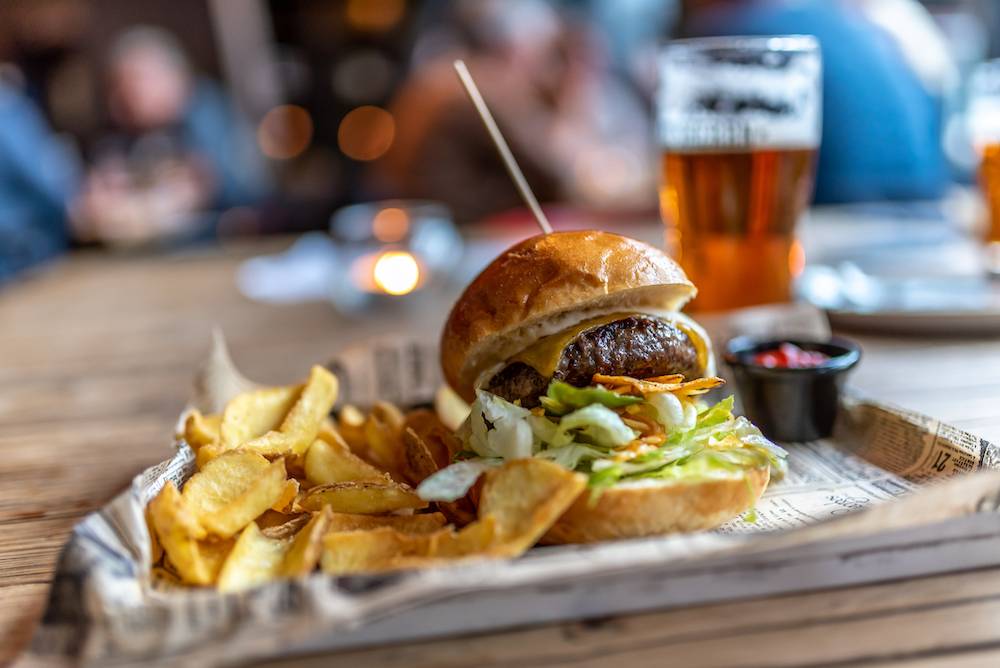 Lunch In Breckenridge
In Breck, and Colorado as a whole, lunch is both an essential meal and one that comes in the widest variety. For some, you'll want to have a fun sit-down lunch in town with refreshing drinks and grand mountain views. Other families prefer enjoy their meals out in those majestic views, grabbing a great to-go lunch in their adventure packs. Breckenridge has fine lunch options to appease both types of families!
Soup isn't often the first thing that comes to mind for family lunches, but it may be after you've tried out Soupz On. Although you can get great lunch salads and sandwiches here, the stars of the show are the excellent soups and fresh-baked breads. Especially on winter trips to Breck, some soup to go for the family makes for lovely warming lunch. Plus, with Soupz On's rotating menu, there's something different and delicious to try every day!
This is the perfect lunch or dinner pub-style food stop! Wings, burgers, sandwiches, salads, and more classic American restaurant dishes are available at Empire Burger for the whole family to enjoy. Although Empire serves up somewhat common dishes you can find in many other places, all the menu items are prepared to perfection here! Great food doesn't have to be revolutionary, it just needs to taste great. Empire Burger encapsulates that philosophy to a tee!
Pro Tip: Be adventurous with Empire's impressive selection of 20 dipping sauces. All are uniquely delicious and prepared fresh daily.
We'll keep things short and sweet here, just like Above The Blue's menu. This locals-favorite lunch and late-night eatery offers only ten food items and three drink options. What Above The Blue lacks in variety it more than makes up for in flavor. Plus, it's one of the more affordable lunch stops in Breck with the most expensive item topping out at a modest $10. The gyro is their most popular order, but you and the family will be happy with anything on their short, strong menu.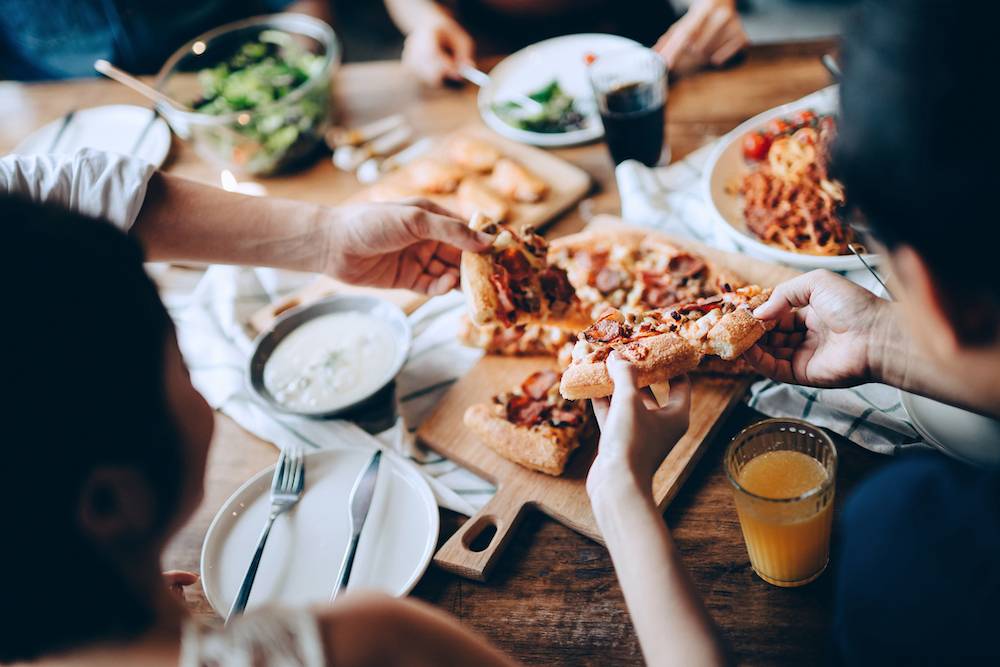 Dinner In Breckenridge
Just as with lunch, family restaurants for dinner in Breckenridge come in all types of shapes, sizes, culinary origins, and price points. Families with younger kids looking for casual dining options can try the several brewery kitchens and sports bars. Those looking for classier fine dining experiences will also have plenty to choose from in Breck.
Perhaps the pinnacle example of mountain town family style dining can be found at Downstairs At Eric's. This family sports bar and arcade is the perfect place to end a full day of high-elevation adventuring with great food, drinks and entertainment. Kids will love the arcade games and tasty pizza slices, and adults will appreciate the 75+ refreshing beer options including 30 beers on tap. We're more than happy to raise a glass to this Breckenridge family dining staple!
TWIST sits right in-between casual dining and fine dining with delicious, beautifully prepared dishes and a wonderful selection of drinks. For your Breckenridge family vacation, TWIST is the best option for a holiday meal, celebration, or just nice night out. This is the priciest dining recommendation we have, but we promise you'll feel it's worth the cost after taking your first bite from one of their signature dishes!
Especially during the busy season and around holidays, TWIST fills up fast. Be sure to make your family reservation well in advance for this Breck restaurant.
Lastly, we have the delightful Mi Casa Mexican Restaurant. This restaurant is just as good as it gets for family dining in Breckenridge with its extensive menu of tasty meals and quick service from great staff. Younger kids can enjoy coloring with crayons that come with their kid's menu, and adults will love the dynamite margaritas served up at Mi Casa. Also, if you're visiting Breck with a large group, you can eat at the restaurant or order from their special group takeout menu and enjoy your meal at your EVR vacation home.
Pro Tip: If you're visiting during the summer, request to sit out on the patio so you and family can enjoy Mi Casa's top-tier golden hour Breckenridge mountain views!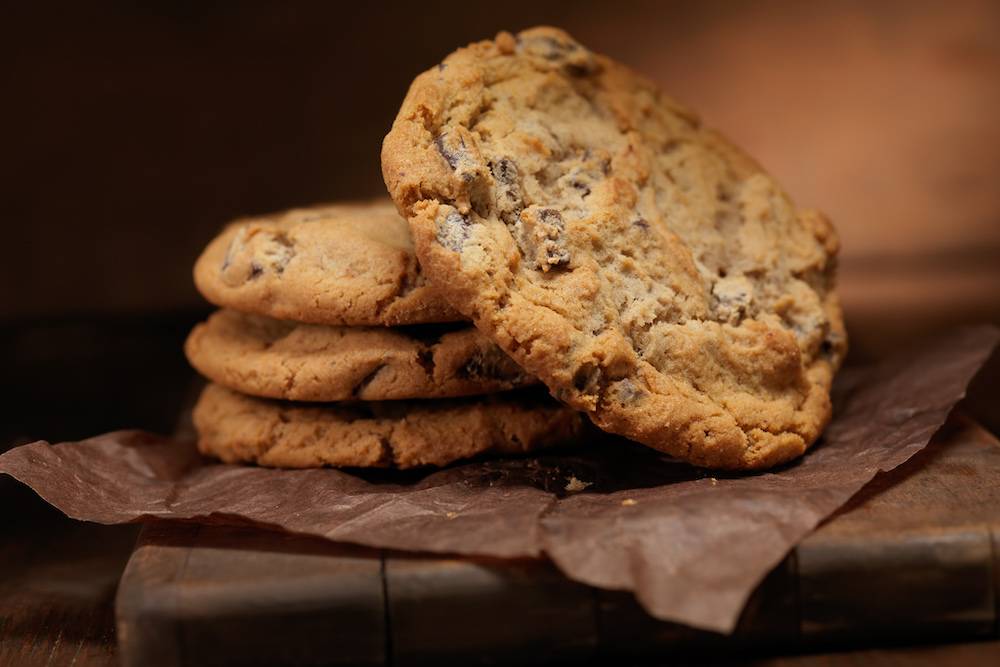 This post is all about family vacation dining, so we HAD to at least shout out one of our favorite dessert stops in town. After a long day adventuring in Breckenridge's high-altitude magnificence, a fresh baked cookie or two from the Mountain Top Cookie Shop will feel like biting into heaven. If you want to elevate your cookie experience, then be sure to give one of their glorious ice cream cookie sandwiches a try. So tasty!
That's it for our list of the best family restaurants in Breckenridge. Whether you're looking for some perfected breakfast classics or for a classy sit-down Breckenridge dining experience, there's something for every taste and budget here in our picturesque mountain town.
For your family vacation to Breck, be sure to book an Exclusive Vacation Retreats vacation rental to perfect your stay. We have rental options for families of all sizes, and we have plenty of homes and condos that are pet-friendly too!